adamkleinschmidt2003 is creator of the Grounded Series altogether. He created the Dora grounding, the Brian grounding series, the Thomas grounding series, Joseph grounding series, and others. He made the first-known grounding series video on July 2, 2011, Brian Gets In Trouble At School. The reason for his popularity is the little effort he puts into his videos.
Real Name: Adam Kleinschmidt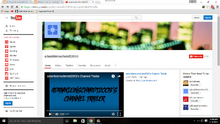 Age: 18
Born: March 7, 1997
Country Origin: USA
He originally joined GoAnimate on July 1, 2011. He later joined GoAnimate4Schools on December 4, 2015.
He has been harassed by a couple of bad users for reasons unknown.
Likes
Helping/Inspiring Others
When People Make (Good) Parodies of His Videos/Receives Credit For Them
Photography/Filmography
Hanging Out W/ Friends/Family
Conversations
Shoes/Clothes
Food
Sports
A's/Raiders/Warriors
Instagram
Meeting New People/Making New Friends
Dislikes
Rude/Fake People
Cyber-Bullies, Trolls, Imposters, Haters
Reading
Etc...
Dora Gets Grounded Series
Dora is adamkleinschmidt2003's most popular and favorite series. His most popular video is Dora Gets a Flu Shot which is nearing almost 500,000+ views! Dora first appeared on his channel on March 16, 2014 on the episode Dora Gets Grounded.
Plot
In every episode, Dora does something bad (ex. pooping on her teacher, destroying other people's property, causing trouble at school, etc...) and gets grounded in return. Often, she will receive other punishments (ex. spankings, loud scoldings, etc...).
Her School
Most of the Dora episodes will take place at her school. Dora has been suspended/expelled over 20 times in the series. Her daily misbehavior brings anger towards her teachers, principal, classmates, and staff. Her teacher is Mrs. Christina, she sometimes has other teachers in specific episodes. The worst thing Dora had done at school was make a fake lockdown on the episode Dora Makes a Fake Lockdown.
Movie
The creation of Dora Gets Grounded: The Movie is currently ongoing. It was announced on the episode Dora Gets Grounded on New Year's Eve+Special Announcement that the movie will be created. It is expected to be released in June 2016 or before. It is also known that a surprise special guest will co-star in the movie as well! Spreading the word will be greatly appreciated!