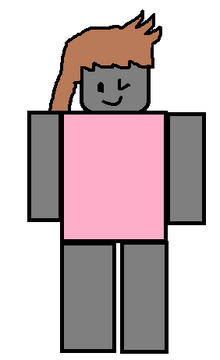 Amber (Also known as Jessica or Kawaii) is a ROBLOX player who join this game.
He is related from Ashley (WarioWare or Game and Wario) and He also never get in trouble or gets grounded. Amber don't have a family to live with him and Ashley somewhere. he makes ROBLOX videos and Let's play ROBLOX games videos
post People's posts everyday. But he takes a break only 1.2 days, He lives alone with Ashley.
Unlike many other good users, Amber doesn't have a problem with the troublemakers even he doesn't ground them, He's being very nice to Robloxians and grounded videos fans even good users or ROBLOX haters, baby show fans, bad users, non siders.  amber were transform himself into his beautiful weird gray human form in 2015, He has a Fantage girlfriend named Kawaii. (Now, He ditches her and date Michelle in 2016.) Amber doesn't make Grounded Videos, He only make herself videos, He's sensitive to bad users and anyone who are being mean to him by making fun of him and teasing/insulting him even being abusive to him  which hurts his feelings and he starts to cry easily, but some people mistaken him for a girl due to his appearance, his nickname, real name, clothes that he wearing, hairstyles.
Ad blocker interference detected!
Wikia is a free-to-use site that makes money from advertising. We have a modified experience for viewers using ad blockers

Wikia is not accessible if you've made further modifications. Remove the custom ad blocker rule(s) and the page will load as expected.