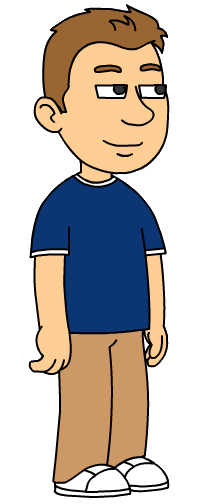 Andrew is a character made by DavidComedian1991.
He goes to church every Sunday, and has got three sons called Kenneth, Roberto and David, since he is married to Adrianna.
Name: Andrew Clark
Born: February 29, 1996 in Chicago, Illinois
Age: 21
Voice: Eric
Status: top student
Mom's Voice: Kimberly
Dad's Voice: Diesel/Dave
Ken Clark/Kevin's Dad's Voice: Paul
Alex Bueno Clark: Steven (Red Shirt)
Sam Clark: Brian (PC Guy) (Brother)
Katie Clark: Kate
Mary Clark: Susan
Heather Clark: Salli
Craig Clark: Tom
Joseph: Diesel/Simon
Kevin: Kimberly/Joey
Keena: Ivy
Grandfather's voice: Diesel/Alan
Matthew: Zack/Joey
Chandler: Paul
Diesel Clark: Diesel/Paul
Adrianna (Girlfriend): Julie
Likes: Video Games, Regular Show, Samurai Jack, Megas XLR, Pokemon, Digimon, Doraemon, Superjail, Brickleberry, Family Guy, American Dad, The Simpsons, The Cleveland Show, Bob's Burgers, King of the Hill, Futurama, Phineas and Ferb, Disney XD, Aqua Teen Hunger Force, Initial D, China IL, Naruto, One Piece, Dragon Ball Z, Toonami, Cardcaptor Sakura, Sailor Moon, Sket Dance, Soul Eater, Space Dandy, Machine Robo Rescue, Gi Joe, Doctor Who, Archer, Attack on Titan, Accel World, Bleach, Cowboy Bebop, The Power PuffGirls, Two and a Half Men, The Big Bang Theory, The Venture Bros., Tom and Jerry, James Bond, Looney Tunes, Yu-Gi-Oh, Van Halen, Dexter, ZZ Top, Pink Floyd, Pink Panther, Billy Joel, Bruce Springsteen, Huey Lewis & the News, Dire Straits, Michael Jackson, Full House, Perfect Strangers, United Airlines, Romeo Santos, Prince Royce, Aventura, Cumbia El Salvador, Kumbia Kings, Hector Acosta El Torito, Marc Anthony, Enrique Iglesias, Carlos Santana, Shakira, Rush, Led Zeppelin, CCR, X-men, Fast and the Furious, The Hunger Games
Dislikes: Macusoper, Family Matters, Step By Step, Caillou, Rosie, Boris, Doris, Barney, Arthur, Cyberchase, Mr Pickles, Paul Johnson, Diesel Clark, Diesel Dawson, Diesel Smith, Baby Shows, Educational Video Games, Pop music nowadays, Smashing Pumpkins, Mötley Crue,Justin Bieber, Miley Cyrus, Osama bin Laden, Daniel Osborne, bad users (expect for Memy9909 and Warren)
Friends: Brian, Memy9909, Baxter, Eric, Aaron (before he betrayed Andrew), Warren Cook (The one who doesn't do fake VHS Openings), Adrianna (girlfriend), Ted Jones, Justin Jones
Enemies: GrandChase RealCook, Bobbyispoopy, Stephen Larson, Macusoper
Ad blocker interference detected!
Wikia is a free-to-use site that makes money from advertising. We have a modified experience for viewers using ad blockers

Wikia is not accessible if you've made further modifications. Remove the custom ad blocker rule(s) and the page will load as expected.