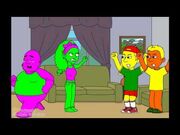 Story
Born:jan 1st 2010
Age:6
Voice: Kayla (Alex Kimble's Version) Ivy

Grade : preschool
Gang:Barney the Purple Dinosaur
Life
Baby bop is a 6 year old dinosaur. She like Mac and cheese She has her blanket. She has a 10 year old brother Bj.She also has an 9 year old cousin named Riff. She is in kindergarten.
Ad blocker interference detected!
Wikia is a free-to-use site that makes money from advertising. We have a modified experience for viewers using ad blockers

Wikia is not accessible if you've made further modifications. Remove the custom ad blocker rule(s) and the page will load as expected.