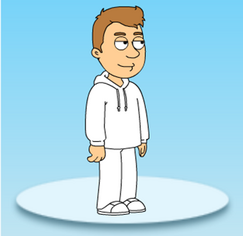 Brian is a character made by GoAniMonster. He used to get into trouble a lot, but now he is good. Now it's for his brother Jr. to get grounded. He has a girlfriend named Nicole Edwards.
Born: July 29, 1998 in Sacramento, California
Age: 19
Voice: David
Likes: The Wonder Years, My Wife and Kids, 8 Simple Rules, Step by Step, Family Matters, Full House, Star Trek, Wicked Science, According to Jim. Scrubs, Rocket Power, Jr. (before he betrayed Brian), Justin, Wolfgang A. Mozart, Blue Oyster Cult, Nine Inch Nails, Chicago Fire
Dislikes: Jr., Wow Wow Wubbzy, Barney, Teletubbies, Sid the Science Kid, Gullah Gullah Island, Foofur, Shining Time Station, Rugrats, Fake VHS Openings, Little Einsteins, Fairly OddParents, As Told By Ginger, Thomas and Friends
Ad blocker interference detected!
Wikia is a free-to-use site that makes money from advertising. We have a modified experience for viewers using ad blockers

Wikia is not accessible if you've made further modifications. Remove the custom ad blocker rule(s) and the page will load as expected.