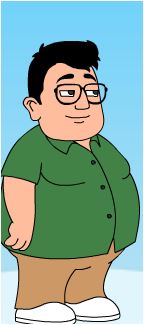 Brook Diesel Seanrick
(born Apr. 4th, 1994, age 23) is the son of
Eric
and
Becky Seanrick
. He is also
Aaron
's,
Alice
's and
Olivia
's cousin and
John
 and
Peter Pettis's
 nephew.. His siblings include:
Jameson Seanrick
,
Braeden Seanrick
and
Sophia Seanrick
.
Brook has 1 lover, Julie Cupper (the daughter of one of his least favorite TV show characters, Kara) in the future, he will marry her. His most favorite show is Caillou and his least favorite show is Caillou Gets Grounded
Name: Brook Seanrick
Age: 23
Born: April 4th, 1994
Zodiac Sign: Cancer
Voice: Diesel 
Favorite Color: White, Red, Blue
Favorite Food: Pot Roast
Favorite TV Shows: Caillou, Nickmom shows for teenagers,  What Was Carol Brady Thinking?, Parental Discretion with Stefanie Wilder-Taylor, NickMom Night Out, MFF: Mom Friends Forever, See Dad Run, Yes, Dear, My 63 Moms, Gravity Falls, Fish Hooks, Shake it Up, Jessie, Kick Buttowski, Adventure Time, Regular Show, Dexter's Laboratory, Pokemon, Power Rangers, Veggietales, Digimon, Teen Titans Go, Spongebob Squarepants, Rocko's Modern Life, Disney XD shows, YTV shows, Nickelodeon shows, Kirby Right Back at Ya, Kickin' It, Lab Rats, Pair of Kings, Crash and Bernstein, Zeke and Luther, Rated A for Awesome, Catdog, Looney Tunes, Tom and Jerry, Family Guy, The Simpsons, Ren and Stimpy, Hey Arnold, Lost Tapes, Foster's Home for Imaginary Friends, Wander over Yonder, Futurama, Family Guy, Ed Edd & Eddy, The Amazing World of Gumball,  Angry Bird Toons, American Dragon, Evan Stevens, Rocket Power, Transformers, Power Rangers, Beylade, Fairly oddparents, Phineas and Ferb, Teenage Mutant Ninja Turtles, Monster High, The Adventures of Dallas, Oscar and Otto, Eric Smith, Danny Dog, Annoying Orange HFA, Penny and Mitch, Dora Gets Grounded, The Eric Show, Dude! What will happen?, We Bare Bears, Evil Caillou Gets Grounded
Favorite Animal: Crocodilians, Sharks
Favorite School Subject: MathA
Least Favorite School Subject: Algebra
Likes: Math, Pot Roast, Teenager Shows,  GoAnimate Network, Caillou, NickMom, Social Studies
Dislikes:  Caillou Gets Grounded, Girl Shows (like Bindi the Jungle Girl, Powerpuff Girls, Winx Club and anything too girly for him), Good Luck Charlie, Olivia, Barney and Friends and/or Barney & the Backyard Gang, The Puzzle Place, Alegra's Window, Mister Roger's Neighborhood, Between the Lions, In the Night Garden, Boohbah, WordWorld, Peep and the Big Wide World, Signing Time!, All Grown Up, Gullah Gullah Island, Thomas the Tank Engine, Blue's Clues, Sid the Science Kid, Bob the Builder, Teletubbies, Dora the Explorer, Bubble Guppies, Mike The Knight, Sesame Street, Wow Wow Wubbzy, Tree fu Tom, Sofia the First, Daniel Tiger's Neighborhood, Jake and The Neverland Pirates, Henry Hugglemonster, Bear in The Big Blue House, Rolie Polie Olie, Team Umizoomi, Raa-Raa the Noisy Lion, Yo Gabba Gabba, Dinosaur Train,The Wiggles, Mickey Mouse Clubhouse, Winnie the Pooh, Shining Time Station,Nick Jr, Fashion, Disney Junior, Max and Ruby, 3rd and Bird, Rastamouse, Peppa Pig, Pocoyo, Pingu, and all baby shows (except Caillou)
Ad blocker interference detected!
Wikia is a free-to-use site that makes money from advertising. We have a modified experience for viewers using ad blockers

Wikia is not accessible if you've made further modifications. Remove the custom ad blocker rule(s) and the page will load as expected.