Caillou learns/watches Happy Harmonies/ungrounded big time/Rosie makes an MLG video out of Happy Harmonies/grounded is an upcoming TV episode of American series, Rosie Gets Grounded. It will be uploaded by Brandon Gold. Caillou and his sister, Elizabeth, Age 11 is voiced by Emma in this episode.
Plot
Caillou's dad, Boris puts on Happy Harmonies: The Complete 42 Uncut Cartoons because they have a laserdisc player. The laserdisc he puts on for Caillou is this as a photo: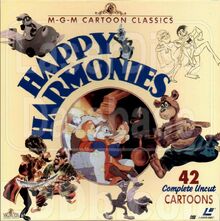 Rosie then finds Caillou and his 11 year old sister, Elizabeth watching Happy Harmonies. They live in Blakely, Pennsylvania. Rosie hates Happy Harmonies. So she makes a MLG video out of Happy Harmonies, where from the laserdisc, Barney Bear is wearing MLG glasses, smoking weed, & all of this MLG. Boris later then finds out and then grounds Rosie along with Caillou and his 11 year old sister, Elizabeth.
Cast
Emma: Caillou & 11 year old Elizabeth
Shy Girl: Rosie
Eric: Boris
Julie: Doris
Ad blocker interference detected!
Wikia is a free-to-use site that makes money from advertising. We have a modified experience for viewers using ad blockers

Wikia is not accessible if you've made further modifications. Remove the custom ad blocker rule(s) and the page will load as expected.