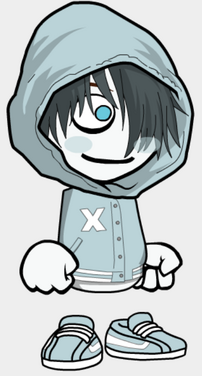 Calvin (Also Know As Caleb) Is A Oringal Character Made By Gangster Camillot
He Is Ordinary Guy Who Lives In Bergen, Norway (Formerly Lives In Vienna, Austria) And He Attend Bergen University College, He Also Play Video Games, Taking Photos, And Exploring.
Personal Information
Name: Calvin "Liam" Anderson
Nicknames: Caleb (By His Friends), Dude (By His Older Brother), Cyan Guy (By His Parents), Hoodie Boy (By His Younger Sister)
Gender: Male
Age: 23
Blood Type: O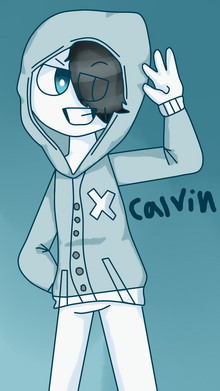 Nationality: Norwegian
Date Of Birth: December 2, 1994
Place Of Birth: Vienna, Austria
Zodic Sign: Sagittarius
Birthstone: Turquoise/Zircon/Tanzanite
Sexual Orientation: Straight
Religion: Christian 
Diagnoses: N/A
Relationships: N/A
Appearance
Height: 5'9"
Weight: 48kg
Figure: Fit
Hair Color: Black
Eye Color: Turquoise
Skin Color: White
Fashion Style: He A Light Cyan And White Jacket With Grey Buttons, Pockets, And A Hood Over On His Head, A Blush On His Cheeks (But Sometimes Not Shown), A White Shirt (But Covered), And Light Cyan Sneakers
Personailty
Personailty: Happy, Upbeat, Kind, Smart, Independent, Adventurous, Brave, Energetic, Intelligent, Outgoing, Cool, Cleaver, Ordinary, And Relaxed
Family Members: Bridget (Mother), Jakob (Father), Kristofer (Older Brother, Born In 1991), Abby (Younger Sister, Born In 1999), Victor (Cousion), Alice (Aunt), And Henry (Uncle)
Likes: Video Games, His Friends, His Family, Taking Photos, Exploring, Watching Sports, Going On Vacations, etc.
Dislikes: Bullies, Rude people, Pornography, Lies, Being Called Names, Violence, Smoking, etc.
Instruments: Vocals, Drums, Guitar, And Piano
Fears: Sharp Objects, Losing His Friends And Family Members, And Nightmares
Career: Student, Gamer, Photographer, Explorer, And Computer Engineer
Catchphrases
"Hey Guys, Im Calvin! The Guy Who Plays Video Games, Takes Photos, And Explore! Right Guys?"
"Im No Sure Im Going To Do..."
Usernames
YouTube / Google+: CalvinTheLightCyanHoodGuy21
Facebook/Twitter: CalvinTheCoolDude
Instagram/SoundCloud: CalvinLuvsVideoGames
Favorites
Color: Turquoise And Cyan
Food: Hamburgers, Pizza, French Fries, Spaghetti, Cookies, And Ice Cream
Beverage: Coco-Cola, Iced Tea, Hot Chocolate, And Sprite
Animal: Dog, Cat, Deer, And Fox
Flavor Of Ice Cream: Chocolate
Song: A 2 Way Tie Between Hello By OMFG And Ice Cream By OMFG
Male singer: A 2-way tie between Avicii And OMFG
Female singer: A 2-way tie between Sia and Katy Perry
Music band: Coldplay
Show: A 4-Way Tie Between Star vs the Forces of Evil, Gravity Falls, Steven Universe, And Wander Over Yonder
Anime: A 2-Way Between One Piece And Pokemon
Book: N/A
Film: The Lego Movie
Musical: N/A
Video Game: Pokemon
Least Favorites
Color: Umber Brown
Food: Anything Spicy
Beverage: Wine
Animal: Box Jellyfish
Flavor Of Ice Cream: N/A
Song: Hit Or Miss By Jacob Sartorius
Male Singer: Jacob Sartorius
Female Singer: Rebecca Black
Music Band: One Direction
Show: Scandal
Anime: Boku No Pico
Book: N/A
Film: Ratatoing
Musical: N/A
Video Game: Bubsy 3D
Voice Actor
Voice Actor: Tom Kenny
Live-Action Actor: ?