Candy Lollipop The Adobe And Soundation Guy formely know as IloveCandy Lollipop VGCP is a good user who likes opinion respecting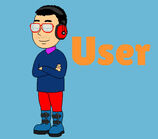 Profile
Allies: Kirby Loopsy, TheColossalD, NitroG Macrae, Alex Kimble, L Ryan, Nicholas Greene
Enemies: Haruhi Suzumiya VGCP, SouthParkSatanFan 2015 VGCP, Powerjohn25 UTTP,
Daniel Osborne, CalebTheAnimator VGCP, ChloeTheFangirl NDCP, Jacob Missigno101
GalaxyFTWBelldandyFTL VGCP,
Age: 10
Real Name: Colin Miel Arriola
Status: Good user
Likes: Little Kids, Homework, Opinion Respectors, Food
Dislikes: Child Abuse, GoAnimate Community, Long Lines, Grounded Videos, Opinion Disrespectors, Bullies, Baby Shows, Criminals, Wars, Youtube Wars
Ad blocker interference detected!
Wikia is a free-to-use site that makes money from advertising. We have a modified experience for viewers using ad blockers

Wikia is not accessible if you've made further modifications. Remove the custom ad blocker rule(s) and the page will load as expected.