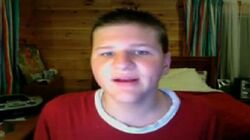 Caroline0204(also known as (FlashSentry98Swell and GoAnimateMaster1998) is a GoAnimate user. He first joined GoAnimate on April 2nd, 2011. On August 20th 2012, he had a GoAnimate wife named Kelly. He divorced her in March 15th, 2014 because she was Zack's girlfriend.
These are his grounded series he originally planned but cancelled them.
Superhero
Likes
Making grounded videos
GTA 5
his friends

Dislikes
Bad stuff happening
his enemies
Ruined grounded series
Ad blocker interference detected!
Wikia is a free-to-use site that makes money from advertising. We have a modified experience for viewers using ad blockers

Wikia is not accessible if you've made further modifications. Remove the custom ad blocker rule(s) and the page will load as expected.