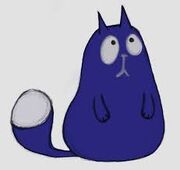 Write the first paragraph of your page here.
Bio
Cat is Peg's pet cat. He is from the PBS Kids show peg + cat.
About cat
Age: 10
Favorite food: Cat food (Obviously)
Friends: Peg, Dora, Caillou
Enimies: Galaxylifefan64,Warren Cook
Favorite Shows: Tickety toc, Yo gabba gabba, Blues clues, Wonder pets, Caillou, Dora the explorer, Dora and friends
Likes: Anything cats like (Duh),Perzonalized Gifts,Netflix,Hummus,Fried Chicken, (Which Is Why He Eats It),Balloons,Slushies,Wheel Of Fortune,
Dislikes: Galaxylifefan64, Family guy, The cleveland show, American dad (which means he dosen't care about how American humans behave),School,Cabbage
Ad blocker interference detected!
Wikia is a free-to-use site that makes money from advertising. We have a modified experience for viewers using ad blockers

Wikia is not accessible if you've made further modifications. Remove the custom ad blocker rule(s) and the page will load as expected.