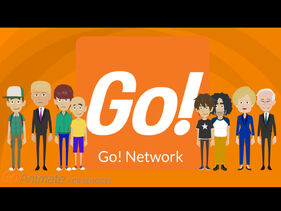 Go! Network was a YouTube channel consisting of some original shows and some imported shows. GN was originally founded on December 21, 2015 as a channel that only showed the Caillou Gets Grounded series. Later, on March 15, 2017, Go! Network rebranded and became a channel that aired more original shows. Their first two Go! Network Originals were Tom & Tucker (2017-2018) and The Donald Trump Show (2017-2018).
Caillou Gets Grounded (2015-2018)
This series debuted on December 21, 2015, with the first episode being titled "Military". The story follows a 4-Year-Old delinquent named Caillou who is always getting into trouble. Whether it be joining the military to get away from his parents, or being deported from the United States for getting a black card on behavior card day, this child is always getting grounded. The series has a total of 2 seasons and 12 episodes as of June 1, 2017, with a movie releasing in 2018 that will conclude the series.
Tom & Tucker (2017-2018)
Tom & Tucker debuted on March 14, 2017, with the first episode titled "Tom & Tucker Review Crappy Grounded Videos". The show was originally planned to be the two reviewing poorly made grounded videos on the internet, but due to time constraints, the creator of the show pulled the plan, and has been experimenting with it ever since. Now, the plan seems to be a Regular Show-type vibe. The series has 2 episodes released as of June 1, 2017, not including cameo appearances in series such as "Caillou Gets Grounded" and "GN City".
The Donald Trump Show (2017-2018)
The Donald Trump Show debuted on March 14, 2017, with the first episode being titled "Basketball Game". The story revolves around U.S. President Donald Trump and all the antics going on in the White House in 2017. Though the show could be very controversial at times, due to its commentary on politics, the creator has stated that he actually supports the President and has for over a year, and is in no way mocking the President, but simply making a joke of all the drama going on and how the mainstream media treats the President. The show has repeatedly poked fun at CNN for their dishonest media, and how they always seem to go against Trump anytime they can, and always praise Hillary. The creator has stated it is one of his favorite shows to animate. The show has 2 episodes that have aired as of June 1, 2017, and more will come some time. The main character, Trump, first made his Go! Network debut in Season 1 Episode 8 of the "Caillou Gets Grounded" series, though being previously mentioned in Season 1 Episode 6. Trump was portrayed as the principal of Caillou's school, and would always mention how he won the election every time he was on the screen. The creator loved the character so much that he gave him his very own show. The spin-off show was originally supposed to go to a character named Harold. Harold debuted in Season 1 Episode 5 of "Caillou Gets Grounded, and made his final appearance as a speaking part in Season 1 Episode 7. His last ever appearance on a GN screen was in Season 1 Episode 10.
Camp Runaway (2017-2018)
Rebrand and Shutdown (2018)
On January 16th, 2018, Go! Network announced it will officially shut down some time between January and February. The network will rebrand into Cartoon Network TOO, a network that will live stream old and new Cartoon Network shows from Looney Tunes to Regular Show. The location of CN TOO is unknown whether it will replace the actual GN channel, or the Go! Boomerang channel. The network is set to shut down with the airing of the new Caillou Gets Grounded movie, which will conclude the 4 year old cartoon, the network's first ever show.
Ad blocker interference detected!
Wikia is a free-to-use site that makes money from advertising. We have a modified experience for viewers using ad blockers

Wikia is not accessible if you've made further modifications. Remove the custom ad blocker rule(s) and the page will load as expected.