Chuckie Finster is A Character from The Cartoon Series Rugrats and Its Spin Off, All Grown Up.
Trivia: In one of TommyPicklesfan1992's Goanimate Videos, Chuckie Finster has a Terrible Fear of The Scary Lion and The Scary Bear from The Teletubbies because Caillou sends a VHS Copy of The Video which it made Chuckie Finster pee in his shorts and causing him to have a Scary Nightmare.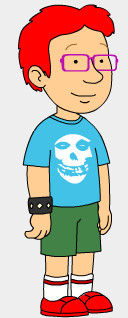 Ad blocker interference detected!
Wikia is a free-to-use site that makes money from advertising. We have a modified experience for viewers using ad blockers

Wikia is not accessible if you've made further modifications. Remove the custom ad blocker rule(s) and the page will load as expected.