Description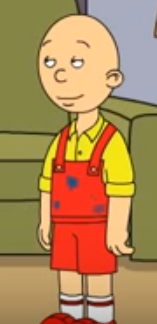 Cody is a character made by Isaac Anderson Animations. He is the 3rd child of Boris and Doris and the brother of Caillou. He was born in 2005 while Caillou (1995) and Rosie (2000).
Appearance
He looks quite similar to Caillou, except for being smaller and wearing red overalls. He is voiced by Ivy. The same voice as Caillou.
Backstory
As described by Isaac Anderson Animations in his videos, Rosie hated Cody so much that Rosie always got grounded for being rude to him.
Once Cody was 4, Caillou started teaching Cody how to mug, rob and roast other people. Oddly enough, Caillou's parents honoured this behaviour.
Almost immediately after Cody's birth, Doris was ill and passed away in front of her family at the hospital. At her funeral, Rosie gets grounded for saying offensive things about Cody and Doris.
Born Janaury 12 2005
Ad blocker interference detected!
Wikia is a free-to-use site that makes money from advertising. We have a modified experience for viewers using ad blockers

Wikia is not accessible if you've made further modifications. Remove the custom ad blocker rule(s) and the page will load as expected.