How can you explain this?

This article is a stub. You can help GoAnipedia by expanding it.
Comedy World was a theme that debuted in 2009, known to be used for GoAnimated Comedy videos more than any other themes. It was first named Slices of Daily Life, back when GoBux and GoPlus started.
January 4, 2016: Comedy World and the other non-business themes were retired on the mainstream GoAnimate website.
July 26, 2016: Comedy World and the other non-business themes were retried on GoAnimate4Schools website. However, they are still retrievable via Requestly.
January 9, 2017: Prior to this date, it was noted that the character creators were still on the website, and on this day, they were removed. Requestly codes that linked to this would instead crash the website, but the users continued to find alternative routes to the character creators.
July 27, 2017: Some Requestly codes (or IP addresses) got blocked with a 403 Forbidden error, which not all users or codes were affected. The reason why for blocking specific codes is unknown.
A return of Comedy World is not impossible, but extremely unlikely.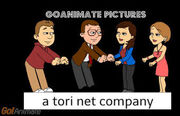 Ad blocker interference detected!
Wikia is a free-to-use site that makes money from advertising. We have a modified experience for viewers using ad blockers

Wikia is not accessible if you've made further modifications. Remove the custom ad blocker rule(s) and the page will load as expected.