Curves is a operating system companion/tour guider of his operating system "Curves Strangerz 4300"
In Jimmy Neutron, his face looks so familiar to
Nick Dean
's. He appears in Jimmy Neutron, Curves Strangers OS, and Curves Job Season 1 1995 VHS.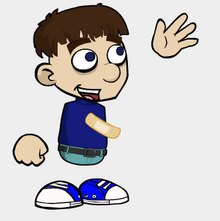 Appearance
He wears a blue shirt, greenish pants, and red shoes (or blue)
About Himself
- Full Name: Curves Rudy Strangerz
- Date of Birth: July 16, 1995
- Friends: Nick, Brian, Nahara, Olsen, Kimmie, Clara, Jenna, Butch, Kevin, Ike, Tristan, Nathan, Nissa, Wendall, Mabry, Abreal, Bart, Lumpkie, Pauly, Rocko
- Age: 21
- Voiced by: Young Guy (formerly), Pauly
- Likes: The Curves Strangerz Show, Nissa, McDonalds, Burger King, Wendys, KFC, Computers, 90's fashion, Nature, Red Robin, Laser Planet, Aaahh! Real Monsters, Peep and the Big Wide World, etc.
- Dislikes: Baby shows, Getting grounded, Nissa (sometimes), Retiring, Expelled, Suspended, Pain, Jimmy Neutron,
- Favorite Songs: Money for Nothing, U Can't Touch This
- Relatives: Mrs. Strangerz (mother), Mr. Strangerz (father), Earlene Strangerz (sister) Jevonte (baby), Smokey (cat)
Trivia
In the GoAnimate video, Jimmy Steals the Teacher's Job, Curves was known to be a strict student when he got sent to Principal Willoughby's office with Amy McKenny.
Show Appearances
Jimmy Neutron (2002 - 2006), Brian's GoAnimate Series (TBA), The Curves Strangerz Show (1995 - 2001), The Nissa Series (2015 - present)
Gallery
Pictures of Curves from Jimmy Neutron, GoAnimate, and The Nissa Series (made by me)
Ad blocker interference detected!
Wikia is a free-to-use site that makes money from advertising. We have a modified experience for viewers using ad blockers

Wikia is not accessible if you've made further modifications. Remove the custom ad blocker rule(s) and the page will load as expected.