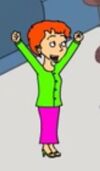 Daisy is the 1-year-old sister of Caillou and Rosie. She is Boris and Doris youngest child. Daisy is a fan-created character, and never appeared in the official Caillou TV Show. She is commonly voiced by Emma.
Description
Daisy is a small child with short red hair, a green top and a pink skirt. She strongly resembles Rosie, and does not bear any resemblance to the rest of her family. Daisy's character design is generally the same, since she, as a fan character is more rarely used than the official members of her family.
Family
Boris (Father)
Doris (Mother)
Caillou (Big Brother)
Baillou (Big Brother)
Daillou (Big Brother)
Rosie (Big Sister)
Cody (Little Brother)
Boris The Teeth Guy (Bad Father)
Ad blocker interference detected!
Wikia is a free-to-use site that makes money from advertising. We have a modified experience for viewers using ad blockers

Wikia is not accessible if you've made further modifications. Remove the custom ad blocker rule(s) and the page will load as expected.