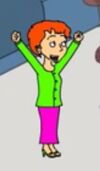 Daisy Ann Desperaux is the 1-year-old sister of Caillou and Rosie and the youngest child and 1-year-old daughter of Boris and Doris and the secondary protagonist of the franchise. she is voiced by Emma.
Born June 14 2014
Family
Boris (Father)
Doris (Mother)
Caillou (Big Brother)
Baillou (Big Brother)
Daillou (Big Brother)
Rosie (Big Sister)
Cody (Little Brother)
Boris The Teeth Guy (Bad Father)
Daisy is Identical To Her Big Sister Rosie, But Wears A Green Buttoned Shirt, A Purple Skirt, And Has Shorter Hair.
Ad blocker interference detected!
Wikia is a free-to-use site that makes money from advertising. We have a modified experience for viewers using ad blockers

Wikia is not accessible if you've made further modifications. Remove the custom ad blocker rule(s) and the page will load as expected.