Dan Jones is an character from Shining Time Station. Who is played by Ari Madger.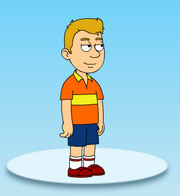 Voice: TigerMario2002:
Zodiac Sign: Aquarius
Birth: March 13, 2005
Occupation: Trouble Maker
Age: 11
Grade:5th Grade Elementary Schooler
teeth lost:his two front teeth
Allies: Mr. Alan (teacher, also voiced by TigerMario2002:), Mrs. Shaw (teacher), Mrs. Catherine (teacher), Ms. Christina (teacher)
Friends: Becky, Kara, Brian, Eric, Matt Jones (cousins), Kendra Marcot (Becky's Older sister's friend) Erika, Katie, Freddie, Bill, Stacy Jones (sister)
Family: Mr. Jones/Dan's Dad (Father, voiced by Paul/TigerMario2002:), Mrs. Jones/Mom (Mother, voiced by Kate), Matt Jones (Cousin, voiced by TigerMario2002:),
Favorite TV Shows: Spongebob Squarepants, Thomas the Tank Engine, Kamen Rider, The Simpsons, TUGS, Curious George,
Likes: Video Games, Hanging Out with Girls (Becky and Kara), Going To The White House
Dislikes: Being Grounded, Being Expelled, Gets in Trouble at School, Being Suspended, Digimon, Power Rangers, Barney, Dragonball Z, Pokemon, The Military School,school,Azumanga doiah
Ad blocker interference detected!
Wikia is a free-to-use site that makes money from advertising. We have a modified experience for viewers using ad blockers

Wikia is not accessible if you've made further modifications. Remove the custom ad blocker rule(s) and the page will load as expected.