Diesel is the neighbour of 95 % of all troublemakers (or other users, including
Stan Roddenberry
(now renamed Bruce Wagner)) or sometimes as a kid. He has a dark blue jacket, black pants, grey hat, dark red hair, red shoes, glasses, and a mustache.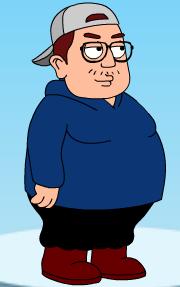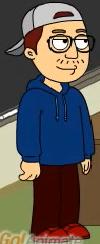 In one video, he appears to be thin instead of fat. Check a video called
"Catherine Gets In Dead Meat".
  He also has a cousin named 
Kate
.
Diesel was hatched from a egg left in Gomindaur in 1234567812345678000000000000000 BGV (Before Grounded Videos). He went on to live in a tree.
In his grounding series, his father is Fat Brian.
Name: Diesel Marcot
Age: 49
Birthday: July 20, 1966 
Favorite Fast Food Places: Applebee's, McDonald's, St. Alfonzo's Pancake Breakfast, Burger King, Wendy's, KFC, Chuck E. Cheese's, Freddy Fazbear's Pizzeria, Texas Chicken
Family: Eric Marcot, Merrick, Nick,Bob, Stan Beals (in CocaColaComedian1999's videos)
Friends: Barney, Baby Bop, BJ, Caillou (Sometimes)
Enemies: Becky, Caillou (Sometimes)
Common term usage: Grounded for life
Quotes
"You are grounded grounded forever! Go upstairs to your room now and never come back!"
"(says the troublemaker's name 7 times), GET OVER HERE RIGHT NOW!!!!!"
"YOU ARE GROUNDED, GROUNDED, GROUNDED, GROUNDED, GROUNDED, GROUNDED, GROUNDED, GROUNDED, GROUNDED, GROUNDED!!!!!!!!!!!!!!!!!!!!!!!"
Ad blocker interference detected!
Wikia is a free-to-use site that makes money from advertising. We have a modified experience for viewers using ad blockers

Wikia is not accessible if you've made further modifications. Remove the custom ad blocker rule(s) and the page will load as expected.