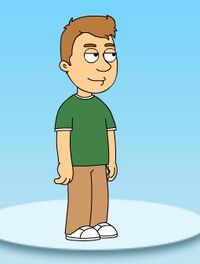 Eddie K is a character created by Joseph Poloncarz and Diesel Hopkins. Sometimes when his mom makes him mad, he makes misogynistic comments to her. He has a GoAnimate account named kanyon1997, where he makes grounded videos out of Jamiem2001's haters.
Gender: Male
Name: Eddie Kanyon Poloncarz
Born: June 28, 1997
Age: 15 (During the events of the series)
19 (Current Logical Age)
Voice: David/Evil Genius/Zack/TigerMario2002:
Likes: Family Guy, American Dad, South Park, Beavis and Butthead, The Cleveland Show, McDonald's, Burger King, Wendy's, KFC, Taco Bell, Steak n' Shake, Applebees, Arby's, Jamiem2001, Jamiem2001 fans
Hates: PBS Baby, Nick Jr, Disney Jr, Barney, Bosco, Jamiem2001's enemies
Ad blocker interference detected!
Wikia is a free-to-use site that makes money from advertising. We have a modified experience for viewers using ad blockers

Wikia is not accessible if you've made further modifications. Remove the custom ad blocker rule(s) and the page will load as expected.