Ella is a Troublemaker in Ella Gets Grounded. She is One Of Dora's best friends,The main antagonist of Ella gets grounded videos, Third antagonist of Caillou Gets Grounded and Third antagonist of Dora Gets Grounded. Ella is a Evil Girl. She's the sixth most hated Character in the Go!Animate Universe. She's from the extemely BAD Baby Cartoon Called Ella Bella Bingo.
Because She's Bad. She Gets Grounded.
Versions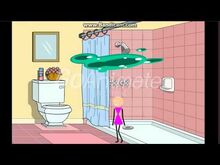 Ad blocker interference detected!
Wikia is a free-to-use site that makes money from advertising. We have a modified experience for viewers using ad blockers

Wikia is not accessible if you've made further modifications. Remove the custom ad blocker rule(s) and the page will load as expected.