"So help me dude, if you don't give me the toy, You are gonna be grounded forever"
                                                           -Eric when trying to get the toy back
Eric is a character of GoAnimate. He wears green shorts, glasses, white socks with red stripes, white sneakers, and a red and white striped shirt. And The episode was
Eric Cruses in School
, In Kevin and Erika The Movie, His job was to get the toy back From Kevin and Erika, But it dosen't succeed due to Him getting sent to Jail by Pikachu and Bodyguards all the time, But when he relizies that Mario Head was his real enemy, He teams up with Kevin and Erika After all.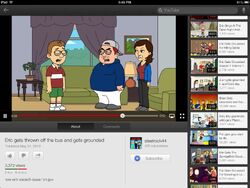 Full Name: Eric Eripcson  Age: 17
Date of Birth: August 12th, 1997
Grade:12th
Friends: Erika, Brian, Aaron, Baxter,Becky, Kara, Daniel, Zack, Derek, Zara, Rachel, Banjo, Tooty, Kevin and Krubtain ]] Enemies: Barney the Purple Dinosaur, Memy9909, Paramount Pictures Logo (2013), Klasky Csupo (1998) Logo, The Evil Emporer Zurg, Mr P. Head, ANti Buzz Lightyear, Paramount Pictures (1995) Logo, Losto Hugin Bear, DrewAndMario, Dark Kayla, Rugrats, Dracula, Hurricane Sandy,prudence,rita,Penny & Mitch, John Cena
Likes: Digimon, Spongebob Squarepants, Nickelodeon shows, Disney XD shows, Troublemakers
Dislikes: Barney, Baby shows, Memy9909, DrewAndMario, Memy fans, Rugrats
Zodiac Sign: Virgo
Chinese Zodiac Sign: Rabbit 
Eric Marcot
Eric Marcot is Diesel's son.  Born: August 12, 1999 
Age: 15 
Information
Eric is made by [http://goanimate.com/user/0fCEdKV7E3Ug JΣrrycoмєd¡ΛN27