"My life is over."
                                      -Eric's catchphrase of sorts
Eric



Name

Eric Marcot/Ericsson

Gender

Male

Age

Likes

Everything, Brian, Aaron, Erika, SpongeBob SquarePants, Shows on Nickelodeon, Wander over Yonder, and the Troublemakers

Dislikes/Hates

Being Grounded, Penny and Mitch, Rugrats, Evil Eric, Dark Calebcomedian, NotSmirks, and John Cena.

Status

Good

Signature colors

Red,Green and White

Born

1999
Eric
is a male character who is created by mrlegofan404. He wears green shorts, glasses, white socks with red stripes, white sneakers, and a red and white striped shirt. And The episode was
Eric Cruses in School
, In Kevin and Erika The Movie, His job was to get the toy back From Kevin and Erika, But it dosen't succeed due to Him getting sent to Jail by Pikachu and Bodyguards all the time, But when he relizies that Mario Head was his real enemy, He teams up with Kevin and Erika After all.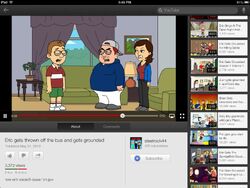 Friends: Erika, Brian, Aaron, Baxter,Becky, Kara, Daniel, Banjo, Tooty, Kevin and Krubtain
Enemies: Barney the Purple Dinosaur, Paramount Pictures Logo (2013), Klasky Csupo (1998) Logo, The Evil Emporer Zurg, Mr P. Head, ANti Buzz Lightyear, Paramount Pictures (1995) Logo, Losto Hugin Bear, Dark Kayla, Rugrats, Dracula, Hurricane Sandy, prudence, rita, Penny & Mitch, John Cena
Likes: Digimon, Spongebob Squarepants, PlayStation 3, Good Shows, Nickelodeon shows, Disney XD shows, Caillou (Sometimes)
Dislikes: Barney, Baby shows, Bad Shows Troublemakers, Memy fans, Caillou (Sometimes)
Zodiac Sign: Virgo
Chinese Zodiac Sign: Rabbit 
Eric Marcot
Eric Marcot is Diesel's son. 

Born: March 2, 1999 
Age: 19 
Family: Diesel (adoptive father) 
Kimberly (adoptive mother) 
Susy (sister) 
Erika (2nd sister) 
Information
Eric (GoAnimate Grounded Universe)

Just like other adaptations of Eric, he
is the main character of the Eric series that caroline0204 made. He is created by mrlegofan404. In that series, he has a brother named Garrick, he has a girlfriend named Erika, and has parents. He goes to Los Angeles High School.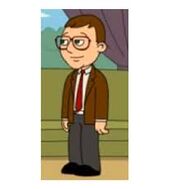 Ad blocker interference detected!
Wikia is a free-to-use site that makes money from advertising. We have a modified experience for viewers using ad blockers

Wikia is not accessible if you've made further modifications. Remove the custom ad blocker rule(s) and the page will load as expected.