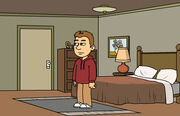 Eric is a character from the Comedy World TV series. He is a happy-go-lucky 11 year old boy.
Personality
He is a happy-go-lucky young boy, and is PC Guy's younger brother. He is the stupid one, but can show high IQ at some points.
One of his hobbies are watching TV, being lazy, eating, you name it.
Trivia
He is a character that cries the most.
As shown in the episode "Chef PC Guy", he can be impatient, and his favorite food is turkey.
He sleeps with a teddy bear, as shown in the episode "Eric's Nightmare".
He is 11 years old, but still acts like a kid.
He has powers, as shown in the short "Comedy World Fever".
Ad blocker interference detected!
Wikia is a free-to-use site that makes money from advertising. We have a modified experience for viewers using ad blockers

Wikia is not accessible if you've made further modifications. Remove the custom ad blocker rule(s) and the page will load as expected.