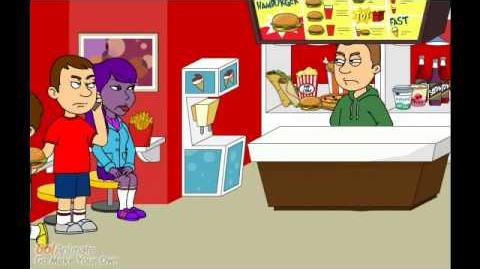 Eric is a character made by GarrettComedian. His hair is brown, he has a green and red short sleeved shirt and wears light blue shorts and yellow shoes.
Full name: Eric Kurt Hanskey
DOB: July 17, 1999 (age 15)
Location: Greenville, SC
Voice: Eric
Parents: Diesel Oliver Hanskey and Kimberly Alexis Hanskey
Zodiac Sign: Rabbit
Likes: Chicken Nuggets M&M's YouTube TV iPhone 5C PS3 USA Video Games Mac OS X Panty and Stocking w/ Garterbelt
Dislikes: School Homework Getting Grounded Barney Caillou Sesame Street Dora The Explorer Windows 7
Friends: Felix (Slippy V) Bill Catherine Harold Caleb (Upcoming character)
Enemies: Barney, Cookie Monster, Dora
Other interests: Bleach FLCL GITS Naruto DBZ Lucky Star Toonami Outlaw Star Big O Inuyasha IGPX Kekkaishi Zatch Bell PlayStation trilogy etc.
Ad blocker interference detected!
Wikia is a free-to-use site that makes money from advertising. We have a modified experience for viewers using ad blockers

Wikia is not accessible if you've made further modifications. Remove the custom ad blocker rule(s) and the page will load as expected.