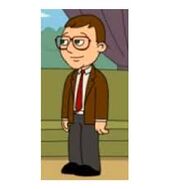 Eric Thomas Seanrick
(né
Pettis
) (born March 17, 1962, age 52)  is the son of 
Harold Pettis
, He is
Aaron
's paternal uncle,
Aaron's Dad
's brother and
Aaron's Mom
's brother in law. He is also
Becky Seanrick
's husband and
Brook
,
Braeden
,
Jameson
and
Sophia Seanrick
's father. It was most likely that he and Aaron's dad are twins
name:Eric Seanrick
born: march 17 1942
age: 73
Zodiac Sign: Scorpio
Favorite Color: Green, Teal, Neon Green, Light Blue, Fire Red, Yellow, Red, Blue
Favorite Food: McDonald's, Pizza Hut, Burger King, Taco Bell, KFC, Wendy's, Subway, Little Ceaser's, Doritos, Lay's, Fritos, Cheeots, Sun Chips, Tositos, and baked chips.
Favorite Movie: Nickelodeon and Disney channel movies, Digimon The Movie, Pokemon Movies, Digimon movies
Favorite TV Shows: Gravity Falls, Fish Hooks, Good Luck Charlie, Shake it Up, Jessie, Kick Buttowski, Adventure Time, Regular Show, The Amazing World of Gumball, Mister Roger's Neighborhood, Dexter's Laboratory, Powerpuff Girls, Power Rangers, Digimon, Teen Titans Go, Spongebob Squarepants, Rocko's Modern Life, Catdog, Looney Tunes, Tom and Jerry, Family Guy, Bear in The Big Blue House, Rolie Polie Olie, The Simpsons, Ren and Stimpy, Hey Arnold, Lost Tapes, Foster's Home for Imaginary Friends, Wander over Yonder, Ed Edd & Eddy, The Amazing World of Gumball, Angry Bird Toons, Disney Channel/XD shows, YTV shows, Nickelodeon  shows, Kickin' It, Lab Rats, Pair of Kings, Crash and Bernstein, Zeke and Luther, Rated A for Awesome, Kick Buttowski, American Dragon, Evan Stevens, Rocket Power, Digimon, Power Rangers, Beylade, Pokemon, Phineas and Ferb, Monster High, The Puzzle Place, Alegra's Window, Olivia, Caillou (when he was 0 years old to 8 years old)
Favorite Animal: Snakes (like Anacondas, Vipers, Rattlesnakes, Death Adders, Reticulated Pythons, Tiger Snakes, Sea Snakes, Mambas, Taipans and Cobras), Giraffes, African Elephants, Crocodilians, Tigers, Bears, Walruses, Jaguars, male Platypuses, female Kangaroos, Wallabies, Dragon
Favorite School Subjects: Art, Science, Physical Education
Least Favorite School Subject: Algebra, Music Class
Likes: Art, Science, Physical Education, McDonald's, Snakes, Giraffes, Tigers, Spongebob Squarepants, Rocko's Modern Life, Boy Stuff , Burger King, XBOX, Disney XD, PS3, Video Games, Soccer, Basketball, YTV, Nickelodeon, Video Games, Wii, TV, Paintball, Laser Tag, Teenager Shows for Boys, Call of Duty, Territory War, Karate, Digimon, Happy Wheels, Digimon Card Slash
Dislikes: Baby Shows like Boohbah, Teen Titans, Sofia The First, Mickey Mouse Clubhouse, etc., PBS Kids (except for Caillou), Nick Jr, Disney Jr
Ad blocker interference detected!
Wikia is a free-to-use site that makes money from advertising. We have a modified experience for viewers using ad blockers

Wikia is not accessible if you've made further modifications. Remove the custom ad blocker rule(s) and the page will load as expected.