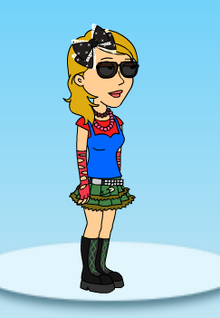 IceCreamFanatic2001 is a GoAnimate and Plotagon user on YouTube who was known to like scary logos, seizure logos due to the actual fact that she isn't epileptic and grounded videos. She was known to make grounded videos out of Carley and other girls she hates. When she was 3, she was diagnosed with Asperger's syndrome which is a type of autism. She also makes Davemadson parodies which can be watched
here
. She is now starting to lose her hatred on Carley. Most recently, she lost her hatred on Microsoft Sam.
YouTube history
She joined YouTube in November, 16th 2012 but didn't upload anything until 2014. In 2015, she got a copyright strike so she had to delete some of her old videos so she doesn't get terminated. Her summer avatar looks like Molly while her usual avatar is
Erika
but without glasses and with brown hair. She was also shown to like Scotty and gets extremely angry if she finds mean videos out of him and hates it when Microsoft Sam does bad things to him.
What she does if she sees The Rescuers haters
While she doesn't disrespect opinions on things usually, she takes people's hatred of The Rescuers to an extreme extent, to the point of even breaking up friendships with them and making grounded videos out of them. She even threatened to murder someone if they ever made a grounded video out of Miss Bianca, and at one point, making a sequel out of it.
Trivia
She is kinda similar to some hot headed YouTubers because they get angred very easily ( Jessica Lane gets angry at videos out of Penny ) and they will get extremely angry if they see a grounded video out of someone, to the point of even making a sequel out of it and threatening to murder someone who did this ( in Jessica Lane's case, if she saw someone made grounded videos out of Miss Bianca and thinks ( she could even be telling the truth ) that Bernard would murder that user if he saw the video. )
She has a strong hatred of Microsoft Sam. When she saw the video Beulah Sings Pokemon Go Song and Gets Grounded, this video caused Jessica Lane to finally reach her breaking point with Microsoft Sam and said that she will make a video regarding on Microsoft Sam and even said that Microsoft Sam grounding Scotty, Beulah and Abby was the last straw. However, she started to lose her hatred on Microsoft Sam.
She deals with users who hates The Rescuers by making a "Are Not Friends Anymore" video out of them and making videos out of that user, to the point of even blocking that user.
She did a grounded series on Amos Slade once, last month, but after only one episode, it was canceled.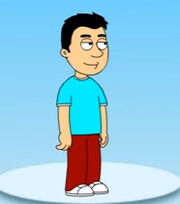 See also
Ad blocker interference detected!
Wikia is a free-to-use site that makes money from advertising. We have a modified experience for viewers using ad blockers

Wikia is not accessible if you've made further modifications. Remove the custom ad blocker rule(s) and the page will load as expected.