FILLER Is a Random Video Series Made by Minecraftboi
Filler is random vids about games, users (Non offensively), and Web Shows
Blocked is a sequel to filler about Tv shows, Products, Users (Non-offensively), And Commercials
FILLER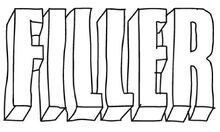 Upcoming episodes as if 6/22/15: Link
if the episode text is black it means that it's upcoming

SEASON 1
4.PumkinFILLERworld
5.InanimateFILLERinsanity
6.NotFILLERsmirks (normal)
7.NintendoFILLERland
8.Five Nights At FILLERs
9.The FILLER Fate of Pac-Man And Villager (Sequel Of This Vid )
10.The Binding Of FILLER (Season Finale)
SEASON 2
1.FaFILLERcade
2.Pixel FILLER 3D
3.FILLERcraft
4.Revenge Of The FILLER Fish!
5.GoFILLERmate!
6.Team Left 4 HalfFILLERdota Portal 3
7.Random Request
8.Random Request
9.Random Request
10.FILLER vs 43 Chars 1/2 2/2 (Season finale)
SEASON 3
1.FILLERmate™
2. Super Smash FILLERs!
3-9.Random Requests.
10. FILLER and the sniper wizard 1/2 2/2 (Series Finale)
BLOCKED
SEASON 1
To Be Confirmed
SEASON 2
To Be Confirmed
SEASON 3
To Be Confirmed
Trivia
Filler episodes are known to have funny jumpscares in the end of the episode
The Filler series was created to as one spoof video of a neat scribblenauts vid using bfdi assets
Ad blocker interference detected!
Wikia is a free-to-use site that makes money from advertising. We have a modified experience for viewers using ad blockers

Wikia is not accessible if you've made further modifications. Remove the custom ad blocker rule(s) and the page will load as expected.