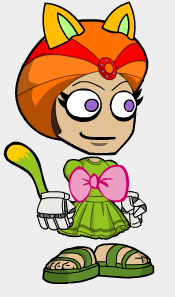 Francine is a character from the anime Samurai Pizza Cats. She is the feline owner of the Pizza Cat Restaurant.
Voiced by: Callie.
Likes: Barbie, Sailor Moon, Mew Mew Power, Magical Doremi, Totally Spies!, Winx Club, Strawberry Shortcake, My Little Pony, Littlest Pet Shop, Jem and the Holograms, Pizza, Family Guy, South Park, The Simpsons, Mario, Sonic, Anime, Doraemon, Animaniacs, Tiny Toon Adventures,
Dislikes: The Big Cheese, Jerry Atric, The Ninja Crows, The Rude Noise, Warren Cook, Caillou, Dora the Explorer, Barney, Little Bill, Bob the Builder, Freddy Fazbear's Pizza.