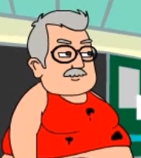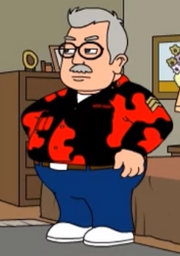 Francis' Dad also known as "Diesel Brown" was created by S1MPIEC0MPUTERS, The info is that his dad has gray hair, eyebrows, and mustache. His eyes are rectangled. He wears a red tank with black effect pics. He has on a blue skirt with white shoes. He does look like a girl with legs like that. It was said on Francis' substitute teacher trouble by a spacestudent and then he sent him to S1MPIEC0MPUTERS's office for it. His legs look girly because he had leg failure since he was 46 years old. Captions below this heading \|/
Captions to Francis' substitute teacher trouble
Mr. Brown: Good Morning, Class. I'm your substitute everyday until next year. Does anyone want to say something about me?
SpaceStudent: You look like a girl with these legs
Mr. Brown: WHAT DID YOU JUST SAY TO ME, YOUNG MAN?! (Taunting)
SpaceStudent: (Shocked) Nothing! (Lying)
Mr. Brown: THAT'S IT! GO TO THE PRINCIPAL'S OFFICE!
Personal Information
Full Name: Diesel Brown
Birthday: May 1, 1978
Age: 46
Son: Francis
Gender: Male
Voice: Diesel
Favorite TV Shows: Phineas and Ferb, Barney and Friends, Thomas the Tank Engine, Blue's Clues, Sid the Science Kid, Bob the Builder, Shining Time Station, Teletubbies, Dora the Explorer, Rugrats, Bubble Guppies, My Little Pony: Friendship is Magic, Other Baby Shows
Likes: Working, Being a substitute with all respectful students, When Francis doesn't make bad choices, His Wife, Grounding Francis, S1MPIEC0MPUTERS, Baby Shows
Dislikes, Having to ground Francis, Being Fired from work, Francis being mean, When Baby Shows Get Destroyed
Section heading
The father of Francis Brown is always bossy.
Ad blocker interference detected!
Wikia is a free-to-use site that makes money from advertising. We have a modified experience for viewers using ad blockers

Wikia is not accessible if you've made further modifications. Remove the custom ad blocker rule(s) and the page will load as expected.