Gerald is a male character who is created by RedAndChuckLover2014 AKA Rya Watkins. He has a girlfriend named Tara, he has a brother named Tyson, and he has parents. He goes to Los Angeles University.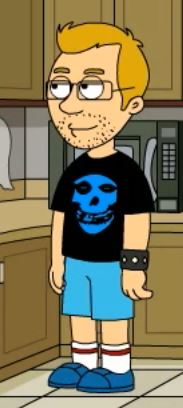 Information
Last Name: Baker
Gender: Male
Hair: Blonde
Age: 21
Occupation: College Student
Birth: May 7, 1996
Family: Steven (Father)
Jennifer (Mother)
Tyson (Brother)
Sweetie (Sister)
Sonjay (Other Brother)
Jeannie (Ex-Girlfriend)
Voice: Joey / Eric (Boring voice)
Ethnicity: Caucasian-American
Reunion with Tara
On August 2, 2014, RainbowDashFan2010 announced that he decided he no longer wanted to use Tara as Sonjay's girlfriend. This decision was made because he realized he ruined the Gerald series by using Tara as Sonjay's girlfriend. He stated that the truth was that Gerald's girlfriend was Tara, and not Jeannie.