This article belongs to the one and only CoolGamer23.

Do not make any edits unless you find spelling mistakes, adding categories, or expanding it! We're currently watching you...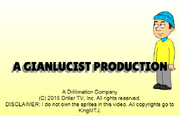 Gianlucist Production
 (ジャンルキストプロダクション株式会社
Janrukisuto Purodakushon Kabushiki-gaisha
) is a fictional company featured in the Drillimation series. Their title card is seen at the end of every Drillimation.
About the company
The company was founded in May 2015 as a supplement after Quint Studios lost the right to own Drillimation due to a DMCA complaint. The disclaimer in the photo means that Drillimation has been forced to post disclaimers regarding the sprites used in Drillimations.
How can you explain this?

This article is a stub. You can help GoAnipedia by expanding it.
Ad blocker interference detected!
Wikia is a free-to-use site that makes money from advertising. We have a modified experience for viewers using ad blockers

Wikia is not accessible if you've made further modifications. Remove the custom ad blocker rule(s) and the page will load as expected.