Go!Thug247
, formerly known as
OfficerPoop247,
is a user who makes grounded videos out of baby shows and AGK. He is the second most popular GoAnimator as of August 2017. Most people in the GoAnimate community believe he's the most popular, but it's actually
Redmau
. In summer of 2017 he made changes to his content following bad reception on his channel, including changing his name. He got terminated on May 20, 2018, and came back as
AnthonyTheVyonder.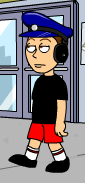 OfficerPoop247

Name:

Anthony

Species:

Human being

Likes:

Good users, Pokémon, Mario, Eric, Paul, VCRs

Dislikes:

Bad users, baby shows, Funai made products

GoAnimate Voice:

Eric

Series:

Caillou and Dora Gets Grounded/Assaulted, Angry German Kid videos
Trivia
His real name is Anthony
He used to be called OfficerPoop247
He came up with his username in the 7th grade
OfficerPoop247's GoPublish is going to expire on July 18, 2016 this trivia is outdated
OfficerPoop247 collects VCRs and also has another YouTube channel that is all about VCRs. The YouTube channel's name is "The VCR King."