GoAnimapolis is the capital of Central GoAnima.
History
The town was created in 1924 by William Jack Dave as a town where people live in peace. In 1929, the town's name was confirmed as GoAnimateApolis by William Jack Dave Jr. But the name was too long for most newspapers due to the limitations at the time, so in 1934, the town's name is GoAnimapolis, the name was chosen by Willam Jack Dave Jr. In 1942, the capital building was lowered due to height limitations, and the apartment was torn down and replaced with 2 houses.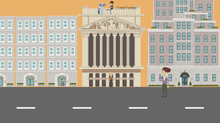 Entertainment
Ad blocker interference detected!
Wikia is a free-to-use site that makes money from advertising. We have a modified experience for viewers using ad blockers

Wikia is not accessible if you've made further modifications. Remove the custom ad blocker rule(s) and the page will load as expected.