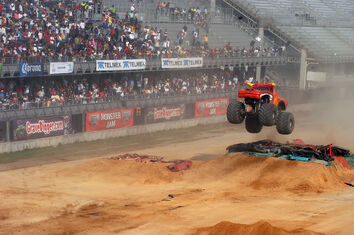 GoCity Road Course
is a road course in GoCity on Erika Meadowbuck Expressway. It has hosted races since 1980 and currently holds races in the NASCAR Sprint Cup Series, ARCA Racing Series, the United SportsCar Championship, SPEED Energy Formula Off-Road, and World of Outlaws Late Model Series racing series.
It also hosts Monster Jam events, motocross events, and (surprisingly) has even hosted a few HNWF events in the grass infield.
It hosted its First Annual Driver Coast Survivor Tournament in 2004
Ad blocker interference detected!
Wikia is a free-to-use site that makes money from advertising. We have a modified experience for viewers using ad blockers

Wikia is not accessible if you've made further modifications. Remove the custom ad blocker rule(s) and the page will load as expected.