Name: DieselIsCutie VGCP
Voice: Grace (old voice), Salli (new voice), Susan (2nd voice), Scary Voice (furious voice), Kidaroo (angry voice)
Favorite Color. Red, Yellow, Blue, Brown, Orange, and Black

Favorite Food: McDonalds, Burger King, Red Robin, Pizza Hut, Taco Bell, and Chuck E. Cheese's
Favorite Movie: Cabin Fever, Cabin Fever 2: Spring Fever, and Cabin Fever 3: Patient Zero, 
Favorite TV Shows: Mixels, Adventure Time, Regular Show, The Officerpoop247 Show, My Little Pony, and WordGirl
Favorite Subjects: Science, Math, Reading, and Art
Likes: CalebComedian, Princess Matilda and Fluttergirl, Lumpkin, Coulden Pettit, InferenitesLover2009, Wizard Princess Matilda,  Weatherstar4000video, Slippy V , Louielouie95 , Cabin Fever, Awesomesauceonpizza, Dylan Rants, Ryan Garcia, Ayah Alaa, OfficerPoop247, MumaX992, Brandon Le, African Vulture , Officerpoop247forever, Rabbit Comedian, Microsoft Sam, Teardropfan2014, Taylor Jolicoeur, 57kirbyTV, dannybond, Mysia Smiles, filmer765, TacoComedian, Tough Punky, Icona V Comedian VCCP, Cheryl Norton, Diesel Tom, Intellegent ATHIEST and JakeIsCutie VGCP
Dislikes: Nixel, Major Nixel, Darkwing Duck, Futurama, Vortex Bro, Hammer Bro., Fire Bro, Warren Cook, Dora The Explorer, Caillou, Getting Arrested, Getting Grounded, Eric Smith, Troublemakers, Zinyak, The Adventures of Skunk Fu, Bad Users, Getting Executed, Rosie (Caillou), and Gracecomedian must die
Relatives: Myron Van Buren (1st boyfriend voiced by Diesel), Winston (2nd boyfriend voiced by Brian), Ivy (Chibi Peepz) (Ungrounded series voiced by Herself), Rabbit Comedian (1st brother voiced by Simon), Coulden Pettit (voiced by David), Bridget (2nd sister voiced by Herself), Microsoft Sam (2nd brother voiced by David) 
Photos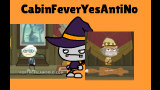 Ad blocker interference detected!
Wikia is a free-to-use site that makes money from advertising. We have a modified experience for viewers using ad blockers

Wikia is not accessible if you've made further modifications. Remove the custom ad blocker rule(s) and the page will load as expected.