It's The Rugrats Wrong or Right! is a 2015 anime anthology film based off of the Nickelodeon series Rugrats and its spin-off, All Grown Up, produced and released by Paramount Pictures, Go!Animate Studios, Nickelodeon Movies, Toei Animation, Klasky Csupo & iPad and the Bonus cartoon was produced by Walt Disney Television Animation on April 17th, 2015. It features some of your classic cartoons including The Tricycle Thief, Kid TV, Cuddle Bunny and Cuffed, it has a bonus cartoon was in this anime anthology film called Zazu's Day Off Day And a music video called My Getaway by T-Boz from Rugrats in Paris: The Movie (2000). The composers were added to a anthology film was Mark Mothersbaugh, Stephen James Taylor, Bob Mothersbaugh & Denis H.M. It was also released with the theatrical release of The Super Mario Bros Movie.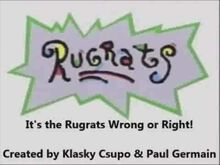 Title Card Designed by Zack Hart
Character Designs was drawn by Masaaki Yuasa (the director of Mind Game)
Ad blocker interference detected!
Wikia is a free-to-use site that makes money from advertising. We have a modified experience for viewers using ad blockers

Wikia is not accessible if you've made further modifications. Remove the custom ad blocker rule(s) and the page will load as expected.