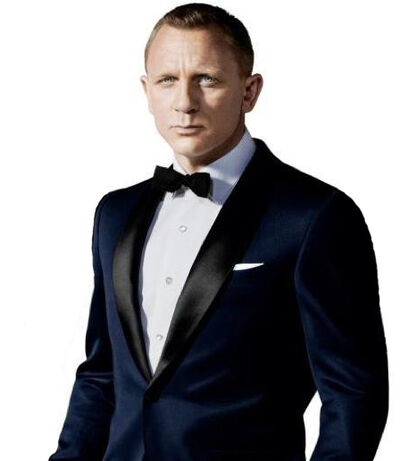 Cdr. James Bond 007, CMG, RN -code number 007- simply known as Bond or Agent 007 is the MI6 handgun shooter who serves as the main protagonist in the MGM and Sony's featured film I.R.O.N.Y. 007 (2014 film)
Bio
James Bond was born to Andrew and Monique on April 13th, 1968. He was also partners with most people who are affiliated with the MI6/SIS. A few years ago set in 2011, Gen. McFarland has turned once and only Earth of the Solar System into a Robotic Wasteland of near extinction. In the late 2014, M (Who was named Gareth Mallory) has brought into a new MI6 Team, Led by James Bond to save New York (Including everything). And they decided to protect Earth, once again.
DOB: 4/13/1968 (official)
Birthplace: West Berlin, Germany
Age: mid-40's (Approximately)
Parents: Andrew (Father, Deceased), Monique (Mother, Deceased), Charmain (Aunt)
Occupation: 00 Agent
Film Role: Protagonist
Voiced by: Brian (Formerly), Dave (Current)
Film Appearances
Death By Ice (2013)
Firestorm (2014)
I.R.O.N.Y. (2014)
BloodMoon (2015)
Rise Of The Mutants (TBA)
Ad blocker interference detected!
Wikia is a free-to-use site that makes money from advertising. We have a modified experience for viewers using ad blockers

Wikia is not accessible if you've made further modifications. Remove the custom ad blocker rule(s) and the page will load as expected.