Jessica is Butterfly1997's good friend. She's chinese american girl who never get in trouble because she was good girl. She also make friends with Butterfly1997, Camille, tristan, jesse, other people.
Jessica



Real name

Jessica Lee

Gender

Female

Age

19

Birthday

September 13, 1997

Hair color

Coral Black

Eye color

Black

Voice

Susan

Status

Good

Hobbies

Reading a magazine, watching movies, her friends, plating crops, doing funny stuff to butterfly and other people, sports
Personality
Sporty, tomboy, caring, athletic, good, friendly, Funny, nice 
Friends
Carrotkiller101studio, NickComedian1997, Calebcomedian, Midknightcomedian2001, Amsally94, Zscriv, And Nintendofan20, Caroline0204, Ashercomedian2001, louielouie95, paultheninja203,  Pancakelover123456789, HeroesYesVillainsNo, PainlessPentagram,galaxylifefan64, StarWarsAndCODFan1999, ILoveCaroline0204, Dora rocks, warren cook, Captain American fan, Memy9909, Baxter, PlantsvsZombies9909, briancomedian2013 , My little pony friend, Sam chen, Taylor JoliCoeur, savoy2121, 'Eric Eripcson, Jack dawson, fluttergirl, princess matilda, Kristin konkle, SERGEANTCOMMANDARMY, KodyTheCartoonGuy, VenusComedian1995, Optimus500050, Alex Kimble, Tigrus879, Mitsuki GoAnimate Fan,  OptimusprimeYesMegatronNo,  KeybirdComedian Vevo, Butterfly1997.  tristan, Jesse, trent morrison, dariusdog, User 695752331, skylar hawkins and other people
Enemies
Mean people and whatever 
Appearance
Jessica is a Asian American woman with black shoulder length hair, large black eyes, olive complexion, average body type with small bust, black thin eyebrows, large head, childlike chibish facial features. Jessica wear green shirt, blue shorts, blue shoes and she's bit taller than butterfly and also a to
mboy.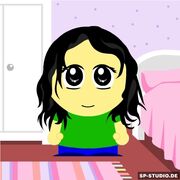 Ad blocker interference detected!
Wikia is a free-to-use site that makes money from advertising. We have a modified experience for viewers using ad blockers

Wikia is not accessible if you've made further modifications. Remove the custom ad blocker rule(s) and the page will load as expected.