Juan
is the main protagonist of the official Juan series who is created by Ryanred999555. He's the brother of Leslie. He has a girlfriend named Juniper Lee (based on The Life and Times of Juniper Lee character of the same name.), has some friends at school, has never been a respected student by teachers, and has abusive parents.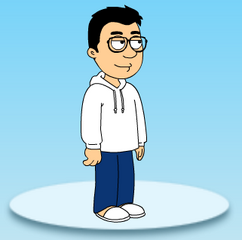 Information
Gender: Male
Hair: Black
Birth: June 23, 1997
Age: 18
Voice: David/Evil Genius/Zack
Likes: 8 Simple Rules, According to Jim, Everybody Loves Raymond, Boy Meets World, Full House, Home Improvement, Step by Step, Family Matters, Last of the Summer Wine, Rugrats, Two of a Kind, Jimmy Neutron, Rocko's Modern Life, Lilo and Stitch, Scrubs, The Wonder Years
Dislikes: Getting grounded, Getting expelled, PBS Kids, Baby Shows, Gullah Gullah Island, Dora the Explorer, Fake VHS Openings, Shining Time Station, Peg + Cat
Ad blocker interference detected!
Wikia is a free-to-use site that makes money from advertising. We have a modified experience for viewers using ad blockers

Wikia is not accessible if you've made further modifications. Remove the custom ad blocker rule(s) and the page will load as expected.