Kara Cupper is a Shining Time Station character, played by Erica Luttrell. She is a black American girl, who gets smart and sometimes she can be rude, which often gets her grounded.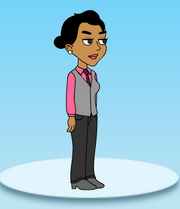 Birthdate: September 19, 1972/2001 (Child Version)
Age: 42/13
Grade: Graduated from college/7th
Voice: Susan or Veena
Friends: Camila (Chiquititas) and Nadia (Chiquititas)
Enemies: Mr. Keebler, Mmemy9909, Warren Cook, Baxter
Family: Kara's Dad (father, voiced by Diesel or Eric), Kara's Mom (Mom, voiced by Kate), Rosie (younger sister), Tom (little brother) Harry Cupper (grandfather, voiced by Lawrence), Justin Cupper (husband), Julie Cupper (daughter), Brook Seanrick (future son-in-law, voiced by Diesel)
Allies: Becky, Dan, Stacy, Schemer, Brian, Freddie, Eric, Katie, Darren (boyfriend), Bill, Billy Twofeathers, Mr. Conductor, Bob the Tomato, Larry the Cucumber
Job: Designing and programming computer games, Enginnering, programming, and animating video games
Favorite TV Shows: Thomas and Friends, Shining Time Station, Rocket Power, Sonic X, Veggietales
Likes: Pizzas, Computer Games, Video Games, Youtube, Facebook, Wreck it Ralph, Thomas and Friends, Veggietales, Bob the Tomato, Larry the Cucumber
Dislikes: Being Grounded, Being in Detentions, Being Expelled, Being Suspended, Getting Arrested, Getting Killed, Getting Fired from any job, Mr. Keebler, Memy9909, Warren Cook, Baxter
Ad blocker interference detected!
Wikia is a free-to-use site that makes money from advertising. We have a modified experience for viewers using ad blockers

Wikia is not accessible if you've made further modifications. Remove the custom ad blocker rule(s) and the page will load as expected.