Kate is a mother of
Becky
. She mostly grounds her daughter Becky.
Bio:
Voice: Kate
Family: Becky (Daughter), Kendra (Daughter), Paul (Husband), Leon (brother, deceased by his own daughter's hand), Mrs. Elizabeth (Mother), Jerry Marcot (father),  
Friends: Brian's Mom (best friends), Kara's Mom (best friends), Bill's Dad, Bill's Mom, Kara's Dad, Dan's Dad, Dan's Mom,
Birth: September 17, 1951
Hobbies: Listening to the 1930s songs (3rd anniversary of her father's death), Playing Piano (like Caillou does on the Evil Caillou Gets Grounded series).
Likes: Grounding Becky (along with her husband Paul), TV Shows, Memories of her parents, Powers, Shining Time Station, Thomas the Tank Engine, and Baby shows
Favorite TV Shows: Thomas the Tank Engine, Shining Time Station, Dora the Explorer, Rugrats, Barney, The Wiggles, Caillou, Evil Caillou Gets Grounded
Dislikes: Becky getting in trouble, When Dora the Explorer being killed, When Daniel Tiger being killed, When Rugrats being killed, When Teletubbies beaten, When Caillou gets grounded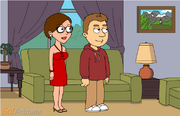 Ad blocker interference detected!
Wikia is a free-to-use site that makes money from advertising. We have a modified experience for viewers using ad blockers

Wikia is not accessible if you've made further modifications. Remove the custom ad blocker rule(s) and the page will load as expected.