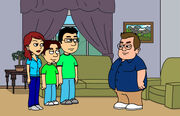 Ken Clark is a hero in TA591IAD1's videos. He has two elder brother named Diesel and James and an elder sister named Carrie.
Voice: Paul
Age: 28
Born: June 13, 1987
Likes: Kimberly, Andrew, Alex, Sam, Joseph, Lester Johnson, Adrianna
Dislikes: Diesel Clark, Paul Johnson Diesel Dawson, Diesel Smith, Macusoper, when Diesel grounds Andrew
History
Ken Clark was born on June 13, 1987. He made good friends with Lester Johnson in September 1990 at the first day in preschool. After his older brother Diesel and Lesters older brother Paul started grounding Andrew and Adrianna, Ken and Lester decided to start filing lawsuits so they can take custody of Andrew and Adrianna together with Kimberly and Susan.
Ad blocker interference detected!
Wikia is a free-to-use site that makes money from advertising. We have a modified experience for viewers using ad blockers

Wikia is not accessible if you've made further modifications. Remove the custom ad blocker rule(s) and the page will load as expected.