Kendra Hamilton

Newer appearance

Name

Kendra Patricia

Last Name/Sex

Hamilton,Kendra/Female

Age

24

Likes

Benjamin, her parents, her siblings (yes, even Damon, he usually likes being mean and a huge troublemaker), but she still loves him), Linus Weber, The Doors, Bachman-Turner Overdrive, Genesis, Yes, ELO, Dire Straits, B. B. King, R.E.M., King Crimson, Social Distortion

Dislikes/Hates

When one of her siblings - especially Damon - misbehaves, autism haters, Justin Bieber, Britney Spears, Fall Out Boy, Bon Jovi.

Status

Ungrounded

Relatives

Patrick(Father), Kathy(Mother), six younger siblings

Birthday

1/8/1991

Personality

Careful, nice, well behaved.

Signature color

Purple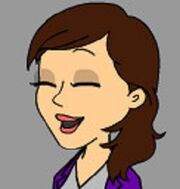 Kendra Hamilton is a character created by SuperMarioKing1999.
Ad blocker interference detected!
Wikia is a free-to-use site that makes money from advertising. We have a modified experience for viewers using ad blockers

Wikia is not accessible if you've made further modifications. Remove the custom ad blocker rule(s) and the page will load as expected.