Kendra Hamilton

Newer appearance

Name

Kendra Patricia

Last Name/Sex

Hamilton,Kendra/Female

Age

26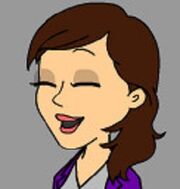 Kendra Hamilton is a character created by SuperMarioKing1999. She is rather good. She runs a computer company in Mobile, Alabama.
Trivia
Despite being an Xbox gamer (she owns Xbox, Xbox 360 and Xbox One), she also has a Game Boy Advance, Game Boy Color, old Game Boy, PS2, PS1, Dreamcast, GameCube, N64, SNES, NES (from her father) and a Sega Master System (from her father too). Her favorite game is Halo 4.
Ad blocker interference detected!
Wikia is a free-to-use site that makes money from advertising. We have a modified experience for viewers using ad blockers

Wikia is not accessible if you've made further modifications. Remove the custom ad blocker rule(s) and the page will load as expected.