Kendra Hamilton

Newer appearance

Name

Kendra Patricia Hamilton

Sex

Female

Age

26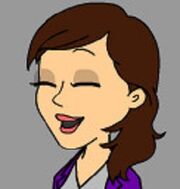 Kendra Hamilton is a character created by SuperMarioKing1999. She is rather good. She runs a computer company in Mobile, Alabama. She is one of the few female Trump supports.
Trivia
Despite being an Xbox gamer (she owns Xbox, Xbox 360 and Xbox One), she also has a Game Boy Advance, Game Boy Color, old Game Boy, PS2, PS1, Dreamcast, GameCube, N64, SNES, NES (from her father) and a Sega Master System (from her father too). Her favorite game is Halo 4.