Kendra is Becky's older sister. She looks like her SuperMarioKing1999 version. She also is 18 years old. She is an eldest child in the Marcot Family.
Family: Paul (Dad), Kate (Mom),
Becky
(Younger sister), Dennis (Little brother, PC Guy),

Age: 18
Birth: March 12, 1995
Voice: Herself, Jennifer (when her voice and her body changed) 
Allies: Bill, Freddie, Kara, Dan, Dave (Bill's older brother), Courtney (Bill's younger sister),
Likes: Computer Games, YouTube, Sonic the Hedgehog, Mario
Dislikes: Being Grounded, Baby Shows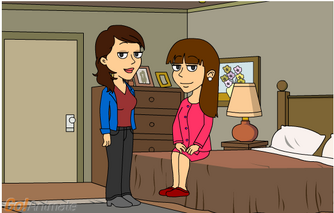 Ad blocker interference detected!
Wikia is a free-to-use site that makes money from advertising. We have a modified experience for viewers using ad blockers

Wikia is not accessible if you've made further modifications. Remove the custom ad blocker rule(s) and the page will load as expected.