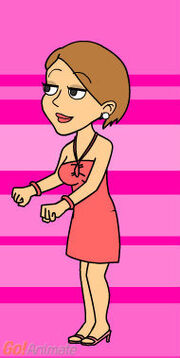 Kimberly Cameron is Scott's pretty sister in The Miss Cameron Adventures!
Voice: Ivy (5 Years Old) Sally (15 Years Old) Kimberly (25 Years Old)
Age: 25 Years Old
Gender: Female
Her First Appearence was Season 1 Episode 1: The New Baby Part 1 And 2
Her New Baby was named: Carter Cameron, But bad news was: A Horrible Ugly Person Named: Ootookoo called Carter stupid just because she did not like Scott's New Baby Carter. She Got grounded for calling Kim's new baby stupid.