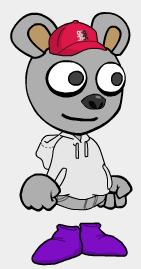 Kisha was a four year old koala. She was a bad koala. She likes to splatter some juice on some nephews.
Age: Four.
Voiced by: Ivy.
Likes: Mcdonalds, Wendys, Subway, Hardees, Pacific Burger King, Pacific Dairy Queen, and some films and shows which are made by Nickelodeon, Nick Jr, Paramount, Marvel, Adult Swim, and Fox Kids.
Ad blocker interference detected!
Wikia is a free-to-use site that makes money from advertising. We have a modified experience for viewers using ad blockers

Wikia is not accessible if you've made further modifications. Remove the custom ad blocker rule(s) and the page will load as expected.