Laughing Jack is a Clown That Is  imaginary he can't Be Seen until Someone thats young is with him then he Tries To Kill them but will Have Someone accidently kill them,  when he kills his victims he stuffs candy inside of them for some unknown reason. he is black and white, but he used to be multi coulored but after he accidently killed a cat, his original owner was sent to militery school and jack stayed inside of his box (where he came from) when his owner came back, he thought jack did'nt exist so he did'nt open his box, the owner became a killer after his parents died, and when he was killing a victim he accidently opened jack's box, and jack killed him.
Voice is Lawrence
When Mad is Simon
When Really mad it Kidaroo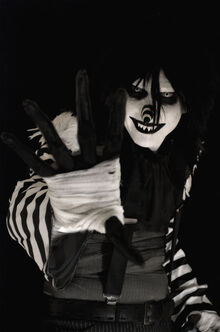 Ad blocker interference detected!
Wikia is a free-to-use site that makes money from advertising. We have a modified experience for viewers using ad blockers

Wikia is not accessible if you've made further modifications. Remove the custom ad blocker rule(s) and the page will load as expected.