Leila is the main character in the Leila series. She is usually grounded for doing bad things like faking sick to stay home and throwing dinner at the wall.  Her final episode is Leila Gets In Dead Meat. She turned good during the Better Choice Campaign.
The series has been cancelled in January 2014, due to colgatepony234 (Live Benamore) now 

hating grounded videos
Name: Leila Havanah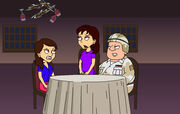 Age: 13 (SuperMalechi's Version), 16
Gender: Female
Born: June 5th, 1999 (SuperMalechi's Version)
Voice: Salli
Zodiac sign: Gemini
Favorite Color: Blue, Purple, Rasberry Red, Light Blue
Favorite Food: Burritos, cookies, and Anything from KFC and Taco Bell
Favorite Subject: Science
Enemies: ColgatePony234 (Live Benamore), Jazzi, Foo, Custard, Noodle, Ka-Chung
Likes: Burritos, cookies, KFC, Taco Bell, Fried Chicken, Getting A Job
Dislikes: Being grounded, Diapers, Purple Goo, Children's Shows, Educational Games,Dead Meat, ColgatePony234, raw eggs, salads, The Save-Ums
Ad blocker interference detected!
Wikia is a free-to-use site that makes money from advertising. We have a modified experience for viewers using ad blockers

Wikia is not accessible if you've made further modifications. Remove the custom ad blocker rule(s) and the page will load as expected.