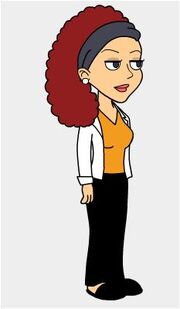 Linda Webber-Flynn
  is the mother of
Phineas
and
Candace Flynn
, and the stepmother of
Ferb Fletcher
.
gender      = Female
age         = Around mid-40's to early-50's 
children    = Candace Flynn (daughter), Phineas Flynn (son), Ferb Fletcher (stepson)
spouses     = Lawrence Fletcher (husband)
siblings    = Tiana Webber (sister who blames everything on her nephew)
in-laws  = Reginald Fletcher (father-in-law), Adrian Fletcher (brother-in-law)
Likes = Music, Science, Art, Physical Education, McDonald's, Crocodiles, African Elephants, Lions, Spongebob Squarepants, Dexter's Laboratory, Boy Stuff, Burger King, XBOX, Disney XD, PS3, Video Games, Soccer, Basketball, Cartoon Network, Nickelodeon, Gangnam Style, Wii, TV, Paintball, Laser Tag, Teenager Shows for Boys, Call of Duty, Territory War, Karate, Pokemon, Temple Run, Pokemon Games, Halo, Cryptids, Roblox, Lost Tapes,  Minecraft, Barney, Thomas, Shining Time Station, Baby Einstein, Baby Shows, Daniel Tiger's Neighborhood, Rugrats, Teletubbies
Dislikes = When Dora the Explorer gets beaten up, When Barney Gets beaten up, When Thomas Gets Beaten Up, When Team Umizoomi get beaten up, When Shining Time Station Get Beaten Up, When Daniel Tiger get Beaten Up, When Rugrats Gets beaten up, Teenager Shows (like the simpsons and family guy)
Favorite TV Shows =  Spongebob Squarepants, Rugrats, Disney channel shows, Disney XD shows, Nickelodeon shows, Cartoon Network shows, Gravity Falls, Phineas & Ferb,  Fish Hooks, Good Luck Charlie, Shake it Up, Jessie, Kick Buttowski, Adventure Time, Regular Show, The Amazing World of Gumball, Mister Roger's Neighborhood, Pokemon, Dexter's Laboratory, Powerpuff Girls, Power Rangers, Digimon, Teen Titans Go, All Grown Up, Beylade, The Simpsons, Family Guy, Ed Edd & Eddy, The Amazing World of Gumball, Nickmom shows, Angry Bird Toons, Robot and Monster, Teenage Mutant Ninja Turtles, Inspector Gadget, CNN, Rocko's Modern Life, Catdog, Looney Tunes, Tom and Jerry, Family Guy, Bear in The Big Blue House, Rolie Polie Olie, The Simpsons, Ren and Stimpy, Hey Arnold, Lost Tapes, Foster's Home for Imaginary Friends, Wander over Yonder, Barney and Friends, Thomas the Tank Engine, Shining Time Station, Rugrats, Blue's Clues, Sid the Science Kid, Bob the Builder, Henry Hugglemonster, Teletubbies, Dora the Explorer, Daniel Tiger's Neighborhood, Bubble Guppies, Team Umizoomi, VeggieTales, Other Baby Shows
Ad blocker interference detected!
Wikia is a free-to-use site that makes money from advertising. We have a modified experience for viewers using ad blockers

Wikia is not accessible if you've made further modifications. Remove the custom ad blocker rule(s) and the page will load as expected.